So for my 21st birthday I figured I'd treat myself to a new computer (which is missing a graphics card for the moment, so I have to use it over terminal services :-/) - it's spectacular...
Whilst most machines get ~1.7GB/s bandwidth to the system memory, and the latest Intel Xeon's get 2.6GB/s - with a NUMA enabled copy of Windows XP (ie - it has service pack 2) I get a nice 10GB/s. And no, I'm not mixing up Gb and GB! I think this is the fastest result for the SiSoft Sandra benchmark I've seen out there without overclocking... Actually, even with overclocking I think it's the fastest!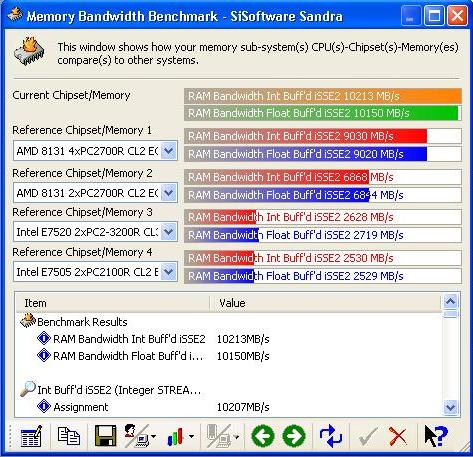 If you ever want performance, dual Opteron (AMD64 server CPU's) are definetely it when mixed with a good motherboard like the DK8N from Iwill! I only had some minor problems with the Western Digital hard disks and trying to use both raid controllers at once.
(Thanks has to go out to http://www.rainbow-it.co.uk/ who managed to source all the components and have provided simply the BEST customer service - even when I wanted particularly special components - they beat Dabs in shipping time by months...)
Permalink